When it comes to tattoos, there are endless ways to express oneself. Each tattoo holds a unique meaning and significance that resonates with the individual who wears it. One type of tattoo that has gained popularity in recent years is the neck tattoo. Neck tattoos can be bold statements or subtle accents, and they come in various designs that hold different meanings. In this article with Impeccable Nest, we will delve into the neck tattoo meaning, neck tattoo designs, and provide insight into how you can use these tattoos to express yourself.
The Origins of Neck Tattoos
Tattoos have been around for centuries, with evidence of tattooing dating back to ancient civilizations such as the Egyptians, Greeks, and Romans. In many cultures, tattoos were seen as a symbol of status, spirituality, or protection.
The history of neck tattoos is somewhat murky, but it's believed that they were first popularized in the 19th century by sailors and other seafaring individuals. Sailors would often get tattoos to commemorate their travels and adventures, and the neck was a popular spot due to its visibility.
In modern times, neck tattoos have become more mainstream, with celebrities and athletes sporting ink on their necks. However, they still retain some of their historical significance, serving as a marker of individuality and self-expression.
What is the Meaning behind Neck Tattoos?
Tattoos have been used as a form of self-expression for centuries across various cultures. When it comes to the neck tattoo meaning, it is essential to understand that different designs carry different meanings.
Power and Strength
Neck tattoos have become increasingly popular in recent years, and they are often chosen by people who want to make a strong statement with their body art. One of the most common neck tattoo designs is the tribal tattoo, which holds significant meaning for many individuals.
Tribal tattoos have roots in ancient cultures around the world, including Polynesia, Africa, and the Americas. The designs often feature intricate patterns and symbols that represent various aspects of life, such as nature, family, and spirituality. Tribal tattoos are deeply meaningful and personal, and they can hold different significance for each individual who chooses to get one.
When it comes to neck tattoos, tribal designs are particularly powerful because of their location. The neck is a visible part of the body, and having a tattoo there can be seen as a brave and bold move. Tribal tattoos on the neck symbolize power, strength, and courage, and they are often chosen by individuals who want to embody these qualities.
The intricate patterns and designs found in tribal tattoos represent the warrior spirit within an individual. This can mean different things to different people – for some, it may represent resilience and the ability to overcome obstacles, while for others it may symbolize strength and determination in the face of adversity. Tribal tattoos are also associated with protection and safety, which can be particularly meaningful when placed on the neck.
Despite the deep meaning behind tribal neck tattoos, they can also be simply aesthetically pleasing. The intricate designs and patterns can be beautiful to look at, and they can enhance the appearance of the neck and collarbone area. Tribal tattoos can vary in size and shape, from small and subtle to large and bold, so individuals can choose the design that best fits their personal style and preferences.
In conclusion, tribal tattoos on the neck hold significant meaning for many individuals. They represent power, strength, and courage, and they are deeply personal and meaningful. Whether chosen for their symbolism or their aesthetic appeal, tribal neck tattoos are a bold and powerful statement that can make a lasting impression.
Love and Affection
Neck tattoos have gained immense popularity over the years, and one of the most common designs is the heart tattoo. The heart symbol has been used for centuries to represent love, affection, and passion. Its universal appeal makes it a popular choice among tattoo enthusiasts who want to express their feelings through body art.
The neck is a highly visible area of the body, and getting a tattoo in this location can be quite provocative. People often opt for neck tattoos to make a bold statement or to show off their creativity. However, when it comes to heart tattoos on the neck, the meaning behind the design is often more significant than just aesthetics.
The heart tattoo is widely known as a symbol of love, and it is often associated with romantic relationships. Many couples choose to get matching heart tattoos as a sign of their commitment to each other. A heart tattoo on the neck can serve as a constant reminder of the love shared between two people, even when they are apart. It can signify the deep connection and bond that exists between them.
Apart from romantic relationships, heart tattoos on the neck can also represent love for family, friends, or even pets. A heart tattoo can be a way to honor a loved one who has passed away or to show appreciation for the people who have always been there through thick and thin. It can also be a way to celebrate the special moments and milestones shared with loved ones.
In terms of design, heart tattoos on the neck are usually small and simple yet convey a powerful message. The size of the tattoo can vary depending on personal preference, but most people opt for a design that is easily visible. The tattoo can be done in black ink or any color that holds significance for the wearer.
In conclusion, neck tattoos are a popular form of body art, and heart tattoos on the neck hold a special meaning. Whether it is a symbol of romantic love or a tribute to family and friends, a heart tattoo on the neck is a powerful way to express one's emotions and feelings. While the design may be small, it can hold great significance for the wearer, serving as a constant reminder of the love and connection they share with others.
Freedom and Individuality
Neck tattoos have become increasingly popular over the years, with individuals choosing to adorn their necks with different designs that hold a significant meaning to them. One of the most common neck tattoo designs is the bird tattoo, which represents freedom and individuality.
The concept of freedom is an essential aspect of human life that everyone strives to achieve. Therefore, it is no wonder why bird tattoos have become so popular among individuals who value their freedom and independence. Birds are creatures that can soar through the skies without any restrictions, which makes them a perfect representation of the freedom that people desire.
Beyond their representation of freedom, bird tattoos on the neck also hold different meanings depending on the type of bird chosen for the design. For instance, an eagle tattoo on the neck signifies power, strength, and resilience. Eagles are renowned for their incredible hunting skills and their ability to soar high in the sky. As such, individuals who choose to get an eagle tattoo on their neck usually do so to represent their own strength and determination to achieve their goals.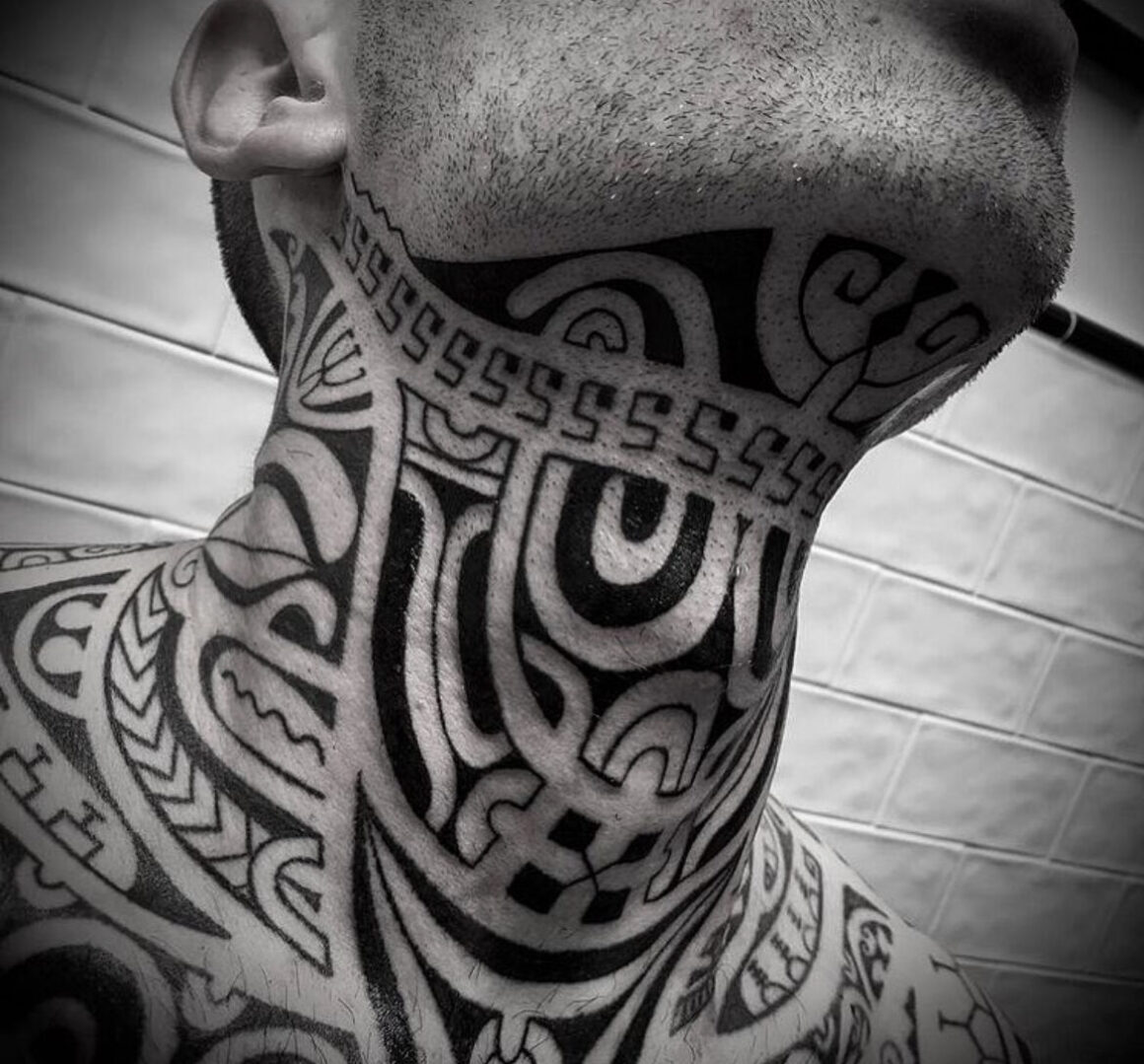 On the other hand, a swallow tattoo on the neck symbolizes loyalty and devotion. Swallows are birds that are known to mate for life, making them a perfect representation of commitment and loyalty. Individuals who choose to get a swallow tattoo on their neck may be expressing their unwavering loyalty to a particular cause or person.
While these are just two examples, there are numerous other types of birds that can be used for neck tattoos, including doves, owls, sparrows, and many more. Each bird holds a unique representation and meaning, making it essential for individuals to research and choose a design that resonates with them and accurately portrays what they wish to express through their tattoo.
In conclusion, neck tattoos are popular among those who value their freedom and individuality, and bird tattoos are one of the most common designs chosen for this body part. They represent various aspects, including power, loyalty, commitment, and resilience, depending on the bird chosen for the design. As with any tattoo, careful consideration should be taken before getting a neck tattoo to ensure that it is something that you will be proud of and happy to display for years to come.
Spirituality and Faith
Neck tattoos have become increasingly popular in recent years, with people often opting for designs that hold special meanings to them. While neck tattoos can be seen as a bold statement and may carry certain social stigmas, they can also serve as an intimate expression of one's personality, beliefs, and identity.
One popular meaning behind neck tattoos is spiritual or religious significance. For those who hold strong Christian beliefs, a cross tattoo on the neck is a popular choice. The design can vary from simple outlines to intricate details, depending on the person's preferences. The cross tattoo represents the individual's faith and spirituality, serving as a constant reminder of their beliefs and values.
In addition to Christian symbols, other spiritual designs can also be found as neck tattoos. The Om symbol, taken from Hinduism, Buddhism, and other Eastern religions, is a popular choice among those seeking a spiritual connection. The Om symbol is believed to represent the universe and its interconnectedness, signifying the importance of mindfulness and meditation.
Lotus flower tattoos are another common spiritual design for neck tattoos. The lotus flower is a symbol of purity, enlightenment, and rebirth, often associated with Buddhism and Hinduism. The flower represents the journey towards spiritual growth and personal transformation, a reminder of one's own inner strength and resilience.
Mandala tattoos, with their intricate geometric patterns and designs, are also a popular choice for neck tattoos with spiritual significance. Mandalas are used in Hinduism and Buddhism as a tool for meditation and reflection, representing the universe and the interconnectedness of all things. Mandala tattoos are often viewed as a representation of the self, reminding the wearer of their own unique place in the world.
Overall, neck tattoos with spiritual or religious significance can serve as a powerful connection to one's beliefs and values. They can serve as a reminder of one's own inner strength and resilience, while also connecting the wearer to a larger, universal concept of spirituality. However, it's important to remember that neck tattoos can be seen as controversial in some social circles, and it's essential to carefully consider the potential impact before getting one.
Rebellion and nonconformity
Neck tattoos have become increasingly popular in recent years, but they still carry a lot of cultural baggage. Historically, neck tattoos have been associated with rebels, outlaws, and counterculture movements. This is because the highly visible placement of a neck tattoo goes against social norms for professionalism and has been seen as taboo.
In many cultures, the neck is considered a sacred and powerful part of the body. This is especially true in Eastern cultures, where the throat chakra is believed to be located. The throat chakra is associated with communication, expression, and creativity, making it a prime location for a tattoo that represents these qualities.
However, in Western culture, the neck has traditionally been associated with vulnerability and submission. This is why a tattoo on the neck can be seen as a statement of rebellion or defiance. It suggests that the person wearing it is not interested in conforming to societal expectations or adhering to traditional values. Instead, they are declaring their independence and asserting their individuality.
Of course, not all neck tattoos carry this meaning. Some people choose to get neck tattoos simply because they like the way they look or because they want to commemorate something important to them. For example, a person might get a tattoo of a loved one's name or a meaningful symbol on their neck as a way of honoring that person or idea.
Regardless of the specific meaning behind a neck tattoo, it is important to recognize that this type of tattoo carries a lot of cultural baggage. While attitudes towards tattoos are changing, there is still a stigma attached to neck tattoos in many professional settings. If you are considering getting a neck tattoo, it is important to think carefully about what it will mean for you personally, and how it may impact your life in the future.
Neck Tattoo Designs
Choosing the right neck tattoo design is crucial as it will be with you forever. Here are some popular design ideas to consider:
Lettering Tattoo
Lettering tattoos are one of the most popular choices for neck tattoos. They include words, phrases, quotes, or even names that hold significant meaning to the individual. The lettering can be in different fonts, sizes, and styles, making them unique and personal.
Animal Tattoos
Animal tattoos are another popular neck tattoo design choice. They represent different traits such as strength, grace, or agility. Popular animal tattoos include lions, tigers, wolves, and even mythical creatures like dragons.
Geometric Tattoos
Geometric tattoos incorporate shapes and patterns to create an intricate design that looks stunning on the neck. These designs can include triangles, circles, lines, or any combination of shapes. Geometric tattoos are versatile and can be customized to suit your personality and style.
Abstract Tattoos
Abstract tattoos allow individuals to express their creativity through unique and unconventional designs. These tattoos can be anything from splash ink, watercolor techniques, or even psychedelic designs.
How to Use Neck Tattoos Meaningfully?
Neck tattoos are a bold statement, and they can be used to convey a variety of messages. Here are a few examples of how you can use neck tattoos meaningfully:
Express Yourself
Neck tattoos are an excellent way to express yourself and show off your personality. You can choose a design that resonates with you and represents who you are.
Commemorate Life Events
Neck tattoos can also be used to commemorate important life events, such as a birth of a child, a wedding or even the passing of a loved one. A tattoo can serve as a reminder of significant moments in your life.
Cover Up Scars
If you have scars on your neck that you are self-conscious about, a neck tattoo can be used to cover them up and boost your confidence.
Comparing Neck Tattoo Designs
When it comes to neck tattoos, the design you choose is essential. It's crucial to find a design that resonates with you and matches your personality. Here are a few things to consider when comparing neck tattoo designs:
Size
The size of your neck tattoo will depend on the design you choose. Larger designs may require more space, while smaller designs can be placed anywhere on the neck.
Placement
Neck tattoos can be placed on various parts of the neck, including the front, back, sides, or under the chin. It's important to choose a placement that will complement your chosen design.
Color
Neck tattoos can be either black and white or colored. The color you choose will depend on your preference and the design you've chosen.
Advises for Neck Tattoo Meaning If you're considering getting a neck tattoo, here are some things to keep in mind:
Pain
The neck is a sensitive area, so getting a tattoo on this part of your body can be quite painful. It's important to prepare yourself mentally and physically before getting inked.
Professionalism
Neck tattoos are more visible than tattoos on other parts of the body. If you work in a professional setting, it's essential to consider how visible tattoos may affect your career prospects.
Aftercare
Proper aftercare is crucial to ensure your neck tattoo heals correctly. Make sure to follow your tattoo artist's instructions and keep the area clean and moisturized.
Conclusion
Neck tattoos are a bold way to express yourself and convey a message. From tribal designs to lettering tattoos, neck tattoos come in various designs that hold different meanings. When considering getting a neck tattoo, it's important to find a design that resonates with you and consider the pain, professionalism, and aftercare involved. With proper care and attention, a neck tattoo can be a lasting piece of art that showcases your personality and style.
I am Harvey Berry, a tattoo enthusiast who has immersed himself in the diverse world of ink, passionately exploring the beauty and artistry within each tattoo. My mission extends beyond uncovering the aesthetics of tattooing; it involves sharing in-depth knowledge across all aspects of this art form.
Fueled by genuine curiosity and love for every facet of tattooing, I have diligently crafted well-researched articles, with a special focus on the Tattoo Meaning of Impeccable Nest section. Here, my aim is to help the tattoo community gain a deeper understanding of the meanings and values embedded in each tattoo.
One of my primary goals is to encourage responsible decision-making when it comes to getting inked. I recognize that choosing to get a tattoo is a significant personal decision that requires careful consideration. Hence, I provide diverse resources covering the meaning of tattoos, the tattooing process, aftercare tips, and other valuable information.
Whether you are a seasoned tattoo enthusiast or embarking on your first exploration of the world of body art, I aspire to be a reliable resource for you at every step of your journey. I hope that my extensive knowledge of tattoos, especially in the Tattoo Meaning section, will assist you in finding inspiration to express yourself through the art of tattoos.